Once upon a time, the stories you knew were enchanted by a dangerous curse…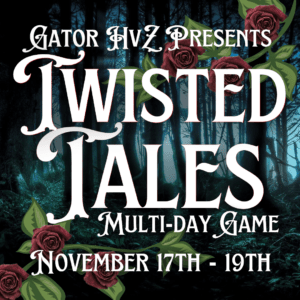 On November 17-19, your favorite fairy tales are reborn with a dark twist. Ready your nerf blasters and socks and join Gator HvZ as we travel into familiar stories, face mystical foes, and break a mysterious curse. Will you find your happily ever after — or will your tale become a tragedy?
Mission Schedule:
Mission 1: Thursday 11/17 at 8pm
Mission 2: Friday 11/18 at 8pm
Mod Hunt: Friday 11/18 at 10pm
Mission 3: Saturday 11/19 at 12pm
Side Mission: Saturday 11/19 at 4pm
Mission 4: Saturday 11/19 at 6pm
Gear Rules:
FPS Limit: 120 fps average, 130 hard cap.
ROF Limit: 8 dps average, 10 dps hard cap.

Variable ROF blasters are allowed if they cannot go above that cap.

Flashlights: 200 lumens or less. Must be below barrel level, regardless of color.
Full rules will be explained at each rules meeting.
Rules Meeting Schedule:
Friday, 11/11 at 8pm: on Zoom
Saturday, 11/12 at 8pm: on Zoom
Sunday, 11/13 at 2pm: on Zoom
Tuesday, 11/15 at 6pm: on Zoom
Wednesday, 11/16 at 6pm: CSE E221
Thursday, 11/17 at 5pm: MAT 0018
All virtual rules meetings will be held at the following link: https://ufl.zoom.us/j/7289355599
Register with the form below to let us know you're coming!